Camp Timberledge is nestled on 280-acres of woodland and lakes in the Pocono Mountains of northeastern Pennsylvania. This setting provides an intimate setting, close to nature, for small to mid-sized retreats and meetings.
Capacity: 60 guests, May – October; and 40 guests, November – April.
Collaboration, Recreation and Relaxation: Camp Timberledge's natural setting provides a great location for groups looking to collaborate, worship, fellowship and unwind amidst the great outdoors.
Indoors: Indoors, meeting and worship facilities feature a large screen for presentations and wi-fi for digital engagement.
Wildlife and Fishing: Outdoors, wildlife abounds. Guests are likely to encounter beaver, deer, raccoons, squirrels and birds, including geese and ducks. The 20 acre Timberledge Lake is great for fishing – well-stocked with pickerel, bass, catfish and bluegills. When the lake freezes each winter, guests can try ice fishing. Fishing equipment is not provided. A Pennsylvania fishing license is required for guests age 16 and older. Visit http://www.fish.state.pa.us/faqlice.htm#1 for license information.
Year-Round Recreation: In spring, summer and fall, explore the lake by boat, canoe or kayak. In winter, ice skating is popular. Hike portions of the three miles of well-marked trails. (Trail Map) Or try out mountain biking, cross-country skiing or snowshoeing (equipment not provided). There a also basketball, softball, volleyball  and ping pong onsite. The Delaware River, part of the National Park System, is a less than 6 miles away. Outfitters offer canoe, kayak and raft rentals for groups interested in a day of water adventure. Check www.landersrivertrips.com.
Retreat Facilities (includes summer camp facilities):
Buildings (Camp Map)
Camp Lodge Meeting Space: This year-round retreat center features 2,000 square-feet of all-purpose meeting space that can accommodate 100 guests in theater-style for meetings or worship and 48 guests for dining.  The building also features two additional lounges for breakout sessions, a catering/warming kitchen, five restrooms with showers and a large deck for outdoor breaks.
Camp Lodge Overnight Accommodations: The Camp Lodge also provides housing for up to 22 guests – three rooms, each with one queen bed; two rooms, each with two queen beds; one room with two twin beds;  and a two-bedroom apartment with one bedroom with two queen beds and one bedroom with one queen bed. In addition, youth groups especially enjoy sleeping in the all purpose area on the main floor. There are five restrooms with three showers and two tub/showers in the building.
Cabins: Three  new cabins (two sleep 14 and one sleeps 16) are located near the restroom(bath house) building and dining hall.
Tents: Four, 16-foot square tents mounted on wooden platforms, sleep eight. Tents are located near the cabins and restroom (bath house) building.
Dining Hall: The Dining Hall includes a commercial kitchen and a dining area that seats 75.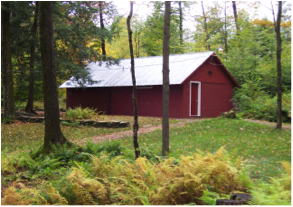 Restroom Building: The restroom building (bath house) with toilets and showers were recently remodeled and winterized and are available for use by those in tents and cabins.
Lean-to: The lean-to sleeps eight and is located in the forest near the high bridge waterfall, about ½ miles from the Camp Center. It does not have restroom facilities.
Shopping: Camp Timberledge is two miles from a country store, gas station, restaurants, a family amusement park, driving range and laundromat. Six miles away are supermarkets, Wal-Mart, specialty shops and a movie theater. Historic Honesdale and Hawley, each with its own charm, restaurants, boutiques, antique shops and golf courses, are within a 15 minute drive. Lake Wallenpaupack is 20 minutes away.
Rates:
CAMP LODGE: $25.00 per night per person 12 years old and older, $15.00 per night per child ages 5 through 11 (when accompanied by parent), and under 5 are free (when accompanied by parent).

CABINS: $20.00 per night per person 12 years old and older, $12 per night per child 5 through 11 (when accompanied by parent), and under 5 are free (when accompanied by parent).

TENTS (In season): $20.00 per night per person 12 years old and older; $12.00 per night per child 5 through 11 (when accompanied by parent), and under 5 are free (when accompanied by parent).

DAY GUESTS: Adults and children ages 5 years and older who attend a retreat week-end as "Day Guests" are asked to pay $5 per day (or for any part of a day) to cover expenses related to camp use and insurance.
Directions: Check Directions Page.
Additional Resources:
To Make Reservations: Contact Joseph Barnes for availability and application at ctimberledge@gmail.com or call  717-857-4640.

Active Member, Christian Camp and Conference Association